A long time ago, in a decade far away, on city streets, mountain roads, park and river routes, a man in his 30's discovered the joys of recreational cycling and photography, eventually rediscovering a talent for creative and journalistic writing as he entered his 40's.
His youngest sister was to blame for the former, encouraging him to do more than commute to and from work on the streets of Pomona, Ca. and see the world around him from someplace other than a seat on a bus.
A new computer and new found friends online were responsible for the latter.
The man soon found himself riding paved roads and trails around and in Bonelli Park and Puddingstone Reservoir, then challenging himself on the winding 4  mile Turnbull Canyon Road between Whittier and Hacienda Heights, as well as the 11 1/2 miles of Carbon Canyon Rd., from Chino Hills to Brea, and taking San Dimas Canyon Rd. up to Golden Hills Rd. and across to Esperanza Dr., just so he could coast down that very steep road to Baseline at 30-35 mph.
All this was on a Mountain Bike.
Then, in 1998, he discovered Hybrid bikes, the smoother, faster, more comfortable alternative, in between the MB and more expensive racing bikes.
He eventually named her Cleopatra, but in the meantime they went on rides together, alone, or on various annual group rides, even almost getting arrested during a group ride that went wrong at the Democratic National Convention in Los Angeles.

When he took up blogging, in 2001, his cycling activism and writing skills led him to begin what was one of the first bike blogs on the internet.
(NOTE: the rest of this essay has links to other works, from my days in SoCal, to more recent times in H-Town. I encourage those interested to explore at your leisure, share, and even comment, especially on the safe cycling and CM themed entries. Comments don't appear immediately, but are approved as soon as I am able.)
The Cycling Dude, though little known, was proud to have been one of the BEST bike blogs in the USA, and the world from Jan. 2003 -Aug. 2010, with a few later, unexpected, additions, and was familiar to a small, but passionate, collection of cyclists around the world, for the journalism, poetry, humor, travelogues, photography and more of its writer.
His writing made friends, influenced the birth of numerous new bike blogs, led to a pair of speaking engagements on bike commuting (REI and the century+ old Riverside Cycling Club), being quoted in a book, praised by The Daily Peloton, and pissed off more than a few people, from a parent of a cyclist killed on the road, to the founder of Critical Mass (2 years of writing on the subject, from 2003-2005, culminated in a series of correspondences with him, and with a collection of well known activists and journalists (the whole archive)).
His poetry was praised by many, including a writer of one very famous song he parodied (Alan Merrill), and his extensive resource page was useful to many.
When he retired his bike blog he continued his bike blogging on his personal blog, and moved his resources there as well.
It was not a decision taken lightly, but one based on the reality that few knew of his blog, read his work, shared it, or left comments and he did not have the knowledge, time, connections and resources to try and build upon what he had.
In November 2014 he took Cleopatra for one last ride as they said their final good-byes.
After a brief fling with a cheap Schwinn, from the Walmart where he worked, from April to July 2015, and a lonesome Summer, he was donated a refurbished 1991 Specialized Crossroads by a Houston cyclist who got wind of his situation when he discovered his bike blogging.
While he never gave it a name, the pair got along reasonably well, mostly commuting to and from where he worked.
Their one moment of fame came when Monica Russo of the Metro Transit Press Office asked for an interview for their Rep My Route series of videos in April 2017:
Houston Metro and Me: The Cycling Dude's 1st Houston Interview
The most recent entries on this blog, by The Cycling Dude, were about the Ride of Silence, and the Bike to Work Day Ride, in May 2017.
As 2018 got under way he realized that, due to various financial windfalls, from a donation by family, and work bonuses to a huge tax refund, opportunities to move forward were open to him and so a decision was made in February and he parted ways with the old, valiant Crossroads, finally on its last legs as a travelling companion...
With apologies to the 60's TV show, Fess Parker and the writers of its theme song....
The Ballad of Daniel Boone (the bike shop, not that other guy, silly!)
Daniel Boone's is a bike shop,
Yes, a Houston bike shop!
Offering quality selections and care
A well deserved reputation have they!
Daniel Boone's is a bike shop,
Yes, a Houston bike shop!
It's founders were fearless
And dedicated as can be!
From a property on Crawford
To the cycling museum on Binz
The rippin'est, roarin'est, Bike lovin'est crew
H-Town ever knew!
Daniel Boone's is a bike shop,
Yes, a Houston bike shop!
And Joy and Dan were in the right place and time
To build a resource and a legend!
What boons, what a do-ers,
What dream come-a true-ers were they!
Daniel Boone's is a bike shop,
Yes, Houston's Most Unique Bicycle Shop!
With a whoop and a holler word spread,
"If Boone's doesn't have it, no one will!"

The Flying Wheel beckoned to all.
A Top 100 in the US is something proudly claimed.
Blazing a big wide Houston trail.
Praise from the Houston Press adding to its fame.
Daniel Boone's is a bike shop,
Yes, a Houston bike shop!
With a dream of enlargement and growing the museum
Both would truly be something to see.
What a boon, what a do-er,
What a dream come-a true-er is Joy!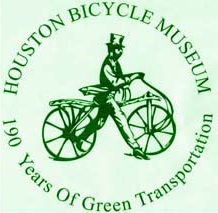 I first visited Boone's a few years ago and when I was ready decided that was where I was going to saddle up again.
Pedaling by on Crawford the place is easy to overlook, unless you know to look for the shop name.
Appearances can be deceiving, but once you get past the front yard, to where the repair shop and main store are, then you are in for a pleasant surprise and not just from the stray cats wandering about (My cats, the Opinionated Pussycats, share that side of this story, with photos).
Their 50th Anniversary is later this month, from what I understand.
 I came with the intent to purchase the 2018 model of the Specialized Sirrus Sport but was told there was an opportunity to order, from Specialized, the 2017 model at a $200+ discount....Sold!
A test ride of the new model only served to convince me I was making the right decision.
I also wanted to buy front and rear lights, an odometer, a helmet, a rear rack and a set of Banjo Brothers Grocery Panniers and was given excellent guidance on the 1st five and discovered the banjo Brothers were in stock.
The day finally came that I was able to take possession of the bike and the accessories and it was a very happy day, indeed.
One thing I learned was that my first Specialized Sirrus Sport, from 1998, was one of the early Hybrid models of the  Sirrus and it was cool to think I was getting back on the road with one of the latest versions of the bike.
From the look of the bike to the various parts, a lot has changed in 20 years, and yet the retail price has stayed almost the same.
 In the 2 months since I brought him home and began to ride I have pedaled 181 miles, a combination of work commutes, shopping trips and community group bike rides, including the 20 mile route of the Tour De Houston..
I chose to name the bike Slowpoke 1 for a reason.
In 2003  I participated in a group ride from Santa Monica to Malibu and back, along PCH and up into the Santa Monica Mountains and back, about 66 miles.
I got left behind by the group, but chose to continue on my merry way, at my own speed.
It took all day, but I thoroughly enjoyed myself and was proud of my accomplishment, sharing the story on my old bike blog, The Cycling Dude.
In 2007 I decided to do the ride again and bring along my camera for photos to include with a new story.
I am a recreational cyclist and commuter, a writer and photographer, a poet, humorist, storyteller, online journalist and cycling and walking activist.
Cleopatra and I explored all over parts of 5 counties, in SoCal, and we began exploring Houston as well our first couple years here, riding the lengths of Westheimer and Memorial, and the Terry Hershey Trail.
In April 2013 I wrote a letter to the "city of Houston", my first foray into discussing the huge safe cycling issues this region has to deal with:
Houston Not Safe For Cyclists? Give Us a Measly 3ft., Please!
In Sept. 2013 I submitted an essay to the Houston Chronicle, in response to a piece by Dug Begley....it never saw print, and I don't even know if Begley ever read it.
The Cycling Dude Responds to Dug Begley on Bike Commuting in Houston
In Jan 2017 I wrote a poem to Houston, a sort of follow up to the 2013 letter and to an earlier version of the poem, centered around where used to live in Southern California....
The Streets of Houston: A Bicyclist's Lament
A year ago I did the Ride of Silence and wrote a poem.
I share these pieces, here, as Slowpoke 1 and I prepare to get out more and explore Houston, Harris County and possibly beyond, as I contribute to several Houston-centered Facebook groups, begin my 2nd year as a member of Bike Houston, volunteering with them for the first time the other night, and begin to learn more about cycling issues in my new home heading into my 6th anniversary here in Sept..
As Bike Houston Director John Long writes, in the wake of recent cycling tragedies...
Houston we have a problem.  ( Bike Houston's Official Statement
The Cycling Dude is back, alive and well and, thanks to Daniel Boone Cycles, properly set up to explore the world around him once again.
I want to do my 1st century (maybe even a double!) someday.
I am going to get away...on a good bike.
One I can trust to get me where I want to go.
Pannier, lights, odometer and all.
Explore place. Stop a lot just to take photos.
Eat breakfast, lunch and dinner at joints
No-one but the locals have ever heard of.
Take the time to observe my surroundings
And admire the view.
I want to make memories to share through
My writing and camera.
I want to feel alive!
Kiril Kundurazieff - The Cycling Dude
May 7, 2018