Prompting Yourself To Write 47: Of Pens and Paper - Your Choice of Writing Tools 

Intended to encourage you to write about your choice of writing tools, past and present.
January 23rd is National Handwriting Day! Who knew?
Started by the Writing Instrument Manufacturers Association (WIMA), its members are manufacturers of pens, markers, and pencils.

How to Celebrate National Handwriting Day (14 Steps).
A Brief History of Penmanship on National Handwriting Day.
How the Ballpoint Pen Killed Cursive.
CURSIVE HANDWRITING AND OTHER EDUCATION MYTHS: Teaching cursive handwriting doesn't have nearly the value we think it does.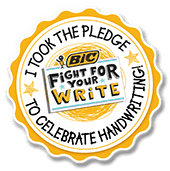 In 2015 Bic launched a campaign to "save handwriting." Named "Fight for Your Write," it is quite campaign and, as a creative writer, I decided to end 2016 and begin 2017 by taking their pledge to celebrate handwriting.
In Britain there is even a National Handwriting Association: The NHA is a charity whose aims are to "raise awareness of the importance of handwriting as a vital component of literacy, to promote good practice in the teaching of handwriting and to support those who work with children with handwriting difficulties."
Oh, and you can find 1000+ Ideas about Teaching Handwriting on Pinterest!
While some schools apparently may no longer teach handwriting and electronic devices have seemingly conquered the civilized world...people still put writing instrument to paper all around the world.
As the Moleskine blog noted, on NHD 2o15, when we do so we let our brain do the auto-correcting for us!
The crayon, the #2 pencil, the ink pen, the Sharpie....all are, in the hands of the writer, from the youngest to the oldest, "Weapons of Mass Creation".
 The first notebook of any type most of us remember using were those school books that helped us fashion our printing and handwriting skills and styles, as we learned to write the alphabet, write words and form whole sentences, in elementary school.
"Old School", yet sophisticated, in how it is made and filled with ink, as well as expensive when buying a single, exquisitely crafted pen (yet a money saver in the long run according to enthusiasts), one of the most unique and beloved writing instruments on the market is the fountain pen.
The history and the lineage of the famous who have used one is just part of the attraction to collectors and users alike.
While disposable fountain pens are a great way to introduce oneself to them, most fountain pens aren't meant to be tossed in the trash and promptly forgotten and replaced. When you run out of ink, just refill the reservoir and get back to your writing. Properly cared for they can last for decades.

Thanks to the internet you can find countless websites, forums, podcasts and blogs, as well as pen meet ups and pen shows dedicated to the fountain pen usage, manufacturing and collecting.

 In Houston THE place to buy one, as well as other tools of the writing trade, is Dromgoole's Fine Writing Instruments and Stationary on Rice Blvd.
They have been in business for over 50 years and are known worldwide for what they offer in writing instruments, pen cases, inks, stationary, journals and more.

The OLDEST pen store in America is in Wisconsin and dates back to 1924: Daly's Pen Shop
Back in the summer I came across articles on fountain pens that I found interesting:
Top 5 Reasons to Use a Fountain Pen.
Why You Want to Use a Fountain Pen
8 Reasons why You Should Write With a Fountain Pen
and most recently...Why You Need To Start Using A Fountain Pen Right Away!
 I finally got curious enough to do some reading and then visited Dromgoole's in October.

I had heard of the store over a year ago and was not disappointed when I finally visited the joint.
Montblanc and other fancy, expensive, pens were on display and for sale, but when I discovered that they sold disposable fountain pen brands I decided to look into the idea of buying and using one myself.
I have for years used a Pilot G-2 Gel Pen (Black or Blue ink) for all my writing...finding it comfortable to grip and easy and free-flowing on the page.
But, what, I thought, if I used something else for other than everyday needs....something just for my creative side...writing notes in a notebook, writing drafts of poems and stories and the like?
Before I visited Dromgoole's website I knew nothing of the history of Pilot; a Japanese company in business since 1918? Interesting.
When I found out they made one of the most popular and well-reviewed disposable fountain pen I was sold on making my first purchase and returned to Dromgoole's to do so.
 A Varsity Disposable Fountain Pen (blue ink)
Another choice would be the more expensive Pilot Metropolitan, among other beginner pens under $25.
 Using my trusty gel pen my writing is swift and sure....maybe too swift for my own good, sometimes, as comfort can sometimes lead to a lack of clarity of letters.
Using a regular pen also seems to lead to laziness in the writing of signatures; have you noticed people who write their names in lines and squiggle, sometimes with a flourish, often without? No clearly defined letter of the English alphabet seen anywhere! Short names, or long, it doesn't matter. Are you such a person?
I often wonder what would happen if I ask them to spell their name.  Would the person remember how, or just grab their state ID, thrust it at me, and say "here ya go!", hee hee!
When I used my new writing toy to write my name it was not as swift, sure, and large a result as the ink is not as fast and free-flowing as a gel pen.
It felt different using this pen.
I spent some time re-writing some notes, from a while back, on new sheets of paper, using the Varsity, and there was a slower, more careful, feel to how I wrote.
 As for what I write ON... my tools have varied over the years as needs and interests evolved.

From middle school through high school I loved doing book reports and the research involved in preparing them.
I didn't entirely retire the #2 pencil until after college and used spiral notebooks filled with sheets of paper, 1-5 subject notebooks and yellow legal pads, large and small.
My creativity pretty much took a powder in the 90's, but as it returned with my going online in 1998, becoming a recreational cyclist, using my camera a lot more and especially when I became a blogger in 2002, small notebooks and legal pads on a clipboard returned as tools of my trade.
I used them to write about my cycling adventures, my earliest cat stories (Mr. Nikita's "autobiography" (most of which is lost), write about trips to Phoenix and Chicago, then to write poetry and more before transferring these works to an online community I belonged to and, later, my blogs.
For the past 14+ years I've carried a yellow legal pad on a clipboard in my book bag where ever I go. The only real frustration with this  has been how the bottom of the pages always get roughed up and folded by interaction with other things in the bag and said pages are then difficult, if not impossible, to straighten and flatten out.

In October 2011 I discovered the books of Julia Cameron, her Morning Pages, writing prompts and other exercises.
This came at a difficult time in my life. I was unemployed, then broke my ankle, spending a year recovering, then planning a move to Houston.
For these efforts at putting my thoughts down on paper and, as the plaques in my photo say, "do what makes your heart sing" and dream, believe, create, the old tried, true and familiar just wouldn't do.
I found myself buying 3 different types of blank, ruled, journals from Barnes N Noble during this period.
From Nov. 2011 to mid-Aug. 2012 a lot of time and thought went into those pages, starting with Julia's Artist's Way Workbook and Morning Pages Journal before moving on to write 2 more Morning Pages Journals, 2 smaller journals, and part of one full of writing prompts.
Using my free-flowing Pilot G-2 the writing was thoughtful, but quick on the page.
It was about this time that I first heard of Moleskine notebooks and journals but, after some reading and research, I decided on something different.
I didn't research deeply enough, though, and this week found something on their websites that I wish I'd known about years ago.
Moleskine....a simple product with 2 centuries of history, especially in Europe. Used by artists, thinkers and writers, famous and obscure these notebooks only gained a name in the 1980's after almost disappearing completely.
Then, 20 years ago, they were reborn and the rest is more creative history (The story is well worth reading).
Exploring their online store I discovered something very cool...their pocket-sized and large "Reporter's Notebook".
Yes, you can get similar, cheaply made, products for $2 at Wal-mart and elsewhere but, as a writer and journalist I put more value on my writing than that.
Me, a "journalist"? A "reporter"? Yes...for over 14 years those titles can be applied to much of what I have shared on 4 blogs and published pieces on other blogs and in newspapers and newsletters, along with commentary, reviews, travelogues, humor, poetry, stories, essays, writing prompts, inspirational series and more (public speaker, open mic performer, and photographer, among other things).
The other day I ordered my first Moleskine's from Amazon, cheaper than ordering direct...2 of the ruled pocket-sized and one of the ruled large, all 3 hardcover.
I still have a legal pad on my desk, next to my computer, but the idea of taking the Moleskine's with me in my book bag appeals to my hopes and dreams to be taken seriously as a writer and putting my thoughts down in something of quality and with a history, reminds me that said thoughts and ideas are important and worth sharing with the world.
My writing is important and personal to me and I thought a change in tools would help me express my creativity in new ways.
------------------------------------
Share your thoughts on all this, especially if you are a user of fountain pens, in the comments or share a link to a related full-blown blog post, or article you have written, or read and liked.
Feel free to share the link to this post as well.
****My complete writing prompt archives.
****UPDATE - 12/12/16****
I am humbled and honored to learn, this morning, that this blog post has been curated by a popular and prolific member (an author/writer/speaker/HIV-Aids activist and a fellow Texan!) of the Flipboard.com community in both the Fountain Pen and Writing topics.
Thank you for the interest and recognition and welcome to all Flipboard members stopping by to read.
I invite you to explore this blog at your leisure and even leave comments if so inspired.
****END UPDATE**
****UPDATE 2  - 12/12/16****
I wrote the author to thank him for his interest and this afternoon discovered he sent me the following reply:
"Bust my buttons! I'm pleased that you're pleased that I chose to include your blog article in my Flipboard. I enjoyed the article and felt it would be something my 4000+ Flipboard followers would find as interesting as I did.
I would suspect I'll probably be posting more of your blog entries to my Flipboard in the near future (I'm one of your blog subscribers now).
I hope you gain new subscribers and grow your platform through my loyal Flipboard followers.
I wish you well on your writing.
Unfortunately, my writing time has become severely limited due to the demands of public engagements.
I barely have time to write my speeches and lectures.
As long as people are willing to listen to me, I'll speak; when the day comes they tire of my voice, I'll resume writing again. LOL. (I'm not sure if that was a promise or a threat.)
Thank you for reaching out to me. I look forward to reading more of your blog posts.
May the magic of the season embrace you and those you love; and may the magic be with you throughout the coming year!"
Dale Thele
WOW...Thank you, sir....
If you, dear reader, have read this far and are interested in the opinion of a user/collector of fountain pens concerning the 2 Pilot pens mentioned in my piece, then may I recommend the opinions of Mr. Thele on the Varsity and the Metropolitan, both of which he owns and uses.
****END UPDATE****
****UPDATE - 3/22/17****

After several months of using a Fountain Pen I gave it up.
As much as I liked using one it was too messy and leaky.
Spending more to get a more reliable pen is not in my budget so I've gone back to my old fave, the Pilot G-2 07 Blue Ink Gel Pen. :-D
****END UPDATE****
Save