Prompting Yourself To Write 47: Of Pens and Paper - Your Choice of Writing Tools 

Intended to encourage you to write about your choice of writing tools, past and present.
January 23rd is National Handwriting Day! Who knew?
Started by the Writing Instrument Manufacturers Association (WIMA), its members are manufacturers of pens, markers, and pencils.

How to Celebrate National Handwriting Day (14 Steps).
A Brief History of Penmanship on National Handwriting Day.
How the Ballpoint Pen Killed Cursive.
CURSIVE HANDWRITING AND OTHER EDUCATION MYTHS: Teaching cursive handwriting doesn't have nearly the value we think it does.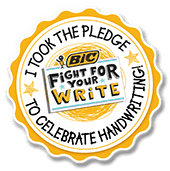 In 2015 Bic launched a campaign to "save handwriting." Named "Fight for Your Write," it is quite campaign and, as a creative writer, I decided to end 2016 and begin 2017 by taking their pledge to celebrate handwriting.
In Britain there is even a National Handwriting Association: The NHA is a charity whose aims are to "raise awareness of the importance of handwriting as a vital component of literacy, to promote good practice in the teaching of handwriting and to support those who work with children with handwriting difficulties."
Oh, and you can find 1000+ Ideas about Teaching Handwriting on Pinterest!
While some schools apparently may no longer teach handwriting and electronic devices have seemingly conquered the civilized world...people still put writing instrument to paper all around the world.
As the Moleskine blog noted, on NHD 2o15, when we do so we let our brain do the auto-correcting for us!
Continue reading "PYTW 47: Of Pens and Paper - Your Choice of Writing Tools " »